Week 1 Day 4
It's time to become a dog diet pro!
To make the changes necessary to achieve your dog's weight transformation, you need to take on a new identity. Now is the time to believe in yourself and identify as your dog's Number 1 weight and health advocate!
As a dieting pro your primary focus right now is to correctly portion meals and treats. We know that look of pretend starvation is hard to resist, but your efforts could be adding 2 years to your best friend's life.
Stay strong!
As with any successful weight support program, there's a lot to take on board these first few weeks, so if you feel overwhelmed with information, don't worry. Just take it one step at a time, and if there is anything you need us to explain in more detail, just reach out via your coaching group.
By regularly reading this coaching series, watching our videos and visiting your WAGSTA Resource Library, your dog will be a WAGSTA Wellness success story in no time!
The Barkdown:
For the next 12 weeks you will receive 2 program updates per week.
These updates will contain Coaching Material to guide you in your dog's weight loss transformation. You will receive these on Day 1 and Day 4 each week.
Keep an eye out for these diet plan updates in the left menu on your Member page.
At the start of each week you will be asked to update your WAGSTA Stats. This involves weekly activity uploads, fortnightly weigh-ins and monthly measure-ups and photo uploads.
To maintain consistency in your dog's wellness program, we ask you to keep your dog's fortnightly weigh-in to a set day of the week. You can set a fortnightly weight reminder using the WAGSTA app.
Your dog's first weigh-in is due 2 weeks from your diet activation date.
At the start of each week, you will also receive a WAGSTA Wellness Mindset video. This is to help get you in the correct head space for the week ahead and ensure you stay focused and motivated to succeed.
As a WAGSTA Wellness member, you can access the members-only Coaching group at any time. This private group is great for fostering team spirit and is a great place to receive professional coaching feedback and support.
Who Oversees Feeding Your Dog?
Do you share your household with a partner, children, teenagers, or housemates? If so, it is likely your dog has multiple feeders.  In busy households where multiple persons take on the responsibility of "feeding the dog", it is very easy for duplicate meals (and sometimes missed meals) to occur.

To avoid this situation let's quickly address this potential issue now.
1. A single person should be responsible for feeding your dog whilst undertaking this program, you!
This removes margin for error and maintains consistency. So, sit down with everyone in your household to ensure they understand you are the designated feeder. (If you are unavailable, delegate this task along with clear directions on the amount of food to be fed).
2. In some households the task of feeding may need to be shared. If so, a clear and visible roster is necessary. In this situation every person responsible for feeding your dog needs to be aware of the correct daily portions to feed and how to accurately measure them out.
3. If your dog receives treats provide a treat jar with your dogs allotted treats for the day. Household members may feed treats from this jar only. Once its empty, no more treats for the day!
Let's Share!
Have you taken your dog's "start" picture yet? Take a front, side and top view pic of your dog standing. Then upload this to your dog's profile page and share your photo with your coaching group.
One of the best ways to realize your achievement during this weight plan will be to compare your dog's "before and after" photos. The pictorial results of our WAGSTA Wellness members are astounding and we'd love your dog to join our hall of fame!
You never know, your dog could become the next face of WAGSTA Wellness, like Maxo below!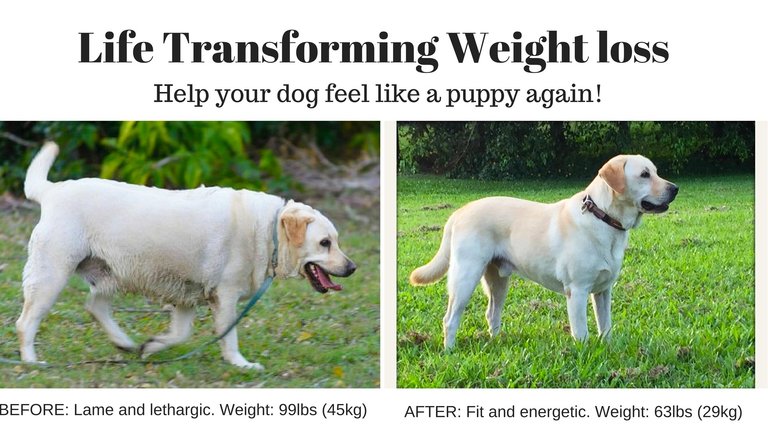 Woofs and wags,
Your WAGSTA team.